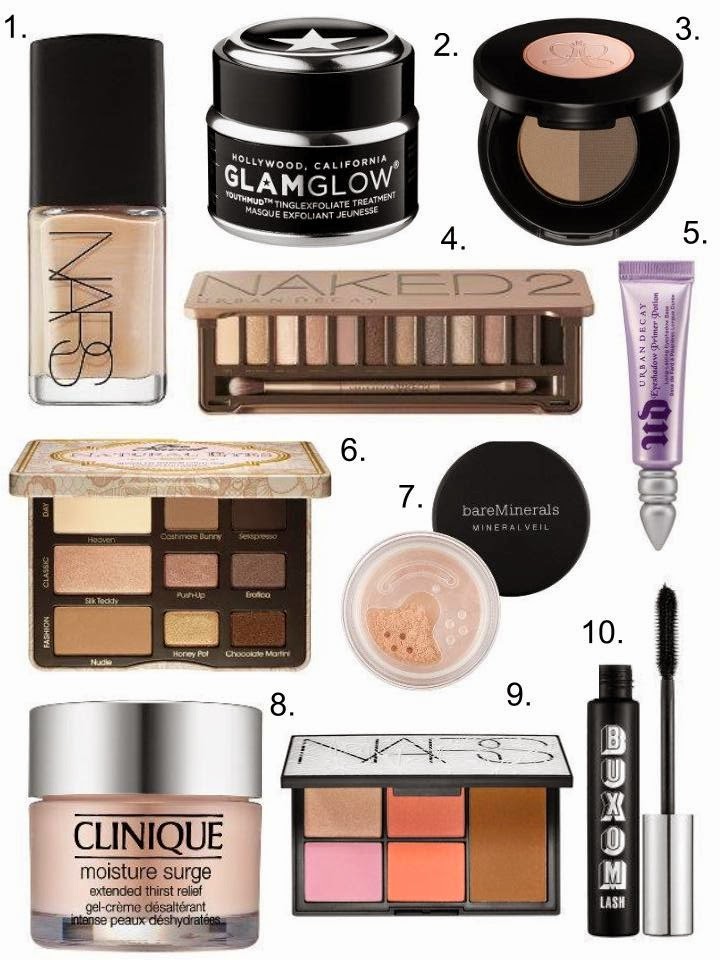 We are frantically putting together some beauty tutorials for all of you sassy folks, but until then, we have put together our top ten beauty picks! Since we've started our Instagram, we have continually been asked on what our daily products are. Although we are not the official authority of how to be lovely (thanks, Funny Face), these are our morning go-tos. We know it's hard to invest in your makeup, but sometimes paying a little extra can go a long way! A lot of times we pair these with our drugstore finds like Covergirl and other brands, and it truly makes all of the difference.
For everyday foundation, Nars Sheer Glow (1) is a must. Sometimes we switch it out with their matte finish foundation when we're a little oily (Hey, we're human!). The coverage is awesome without it making your face cakey.
We love a good mud face mask, and Glam Glow (2) is our favorite! Also, it doubles as an exfoliator, and really gets down to business in our pores. The best part is that it doesn't make your face dry after use. (We use this about every two weeks.)
If we were dropped on a deserted island, we would definitely request our Anastasia Brow Powder (3) at the very least. Yes, possibly dramatic, but its's really that good. The powder duo gives you the option of going lighter or darker so your brows constantly compliment your skin tone or hair.
We firmly believe that every girl needs to have an Urban Decay Naked palette (4). That is all.
Before we put on any type of product on our eyelids, Urban Decay Eyeshadow Potion (5) is a must! There's nothing worse than spending time on your eyeshadow and eyeliner, and then it gets all smudgy and messed up by the end of the day.
Another one of our favorite eyeshadow palettes is Too Face's Natural Eye palette (6). The colors are gorgeous, and there's so many combinations you can use to give you a day to night look.
A lot of you lovely people have asked what kind of face makeup we use for our shoots, and Bare Minerals veil powder (7) is our favorite! It is a heavier look in person, but if you're in the market for bridal, senior, engagement, or "just because you're fabulous" portraits then we highly recommend this powder.
We both have really volatile skin, and Clinique Moisture Surge (8) keeps our skin in check. The best part is that the jar will last us a whole year, and when you're spending money on a moisturizer that's a little pricey, it's nice to know that you won't have to make another purchase like that for awhile.
Can we please talk about the Nars cheek palette (9)?! When we feel extra pale, we like to brighten up our cheekies by mixing the three blushes together, AND when we feel extra sassy we'll add the sparkly highlighter to our cheek bones.
For years we have used Buxom Lash Mascara (10) to give us the big batters without having to use falsies. We usually pair it with our Covergirl Lash Exact Mascara to make it go a little further.