SHOP THE POST

KHLOE & KATIE BLOUSE | FLYING MONKEY DENIM | BAUBLE BAR EARRINGS | TORY BURCH TOTE | STEVE MADDEN HEELS | LOREN HOPE CUFF | KATE SPADE WATCH | DAVID YURMAN RING | DAVID YURMAN BANGLE | TIFFANY & CO NECKLACE
Um hi. My name is Kailey and I literally tell everyone that I come in to contact with that Lukas and I are leaving for Italy in 7 days. I feel like Buddy the Elf (Wil Ferrell) when he first met Jovie (Zooey Deschanel).
"I'M GOING TO ITALY AND I DON'T CARE WHO KNOWS IT!!!!"
Very rarely do I lead an exciting life full of trips and events but lately I've been on the go non stop! This past weekend I got to sing my heart out and walk 25,000 steps around Austin City Limits. It was a day full of some of our favorites like Kendrick Lamar, Cage The Elephant, and The Chainsmokers! Interesting crowd at ACL. Majority it's people in their early to mid 20's or people in college. And then you have the "mom" crowd that only came to see LL Cool J, lol! And then you have the hippie loving, "free the nipple" crowd and that's just one I don't fit in with but love to see! I will gladly people watch so I was thoroughly entertained! One thing I would do differently: wear comfortable shoes. I planned out this super cute outfit and I decided I was going to wear these because they're my favorite to walk in for a good amount of distance. Wrong-o. I have the worst shin splints I have ever had. Like to the point I can barely walk up the stairs! Ugh. It's what I get for being cute rather than practical!
Here's a few snaps from our weekend!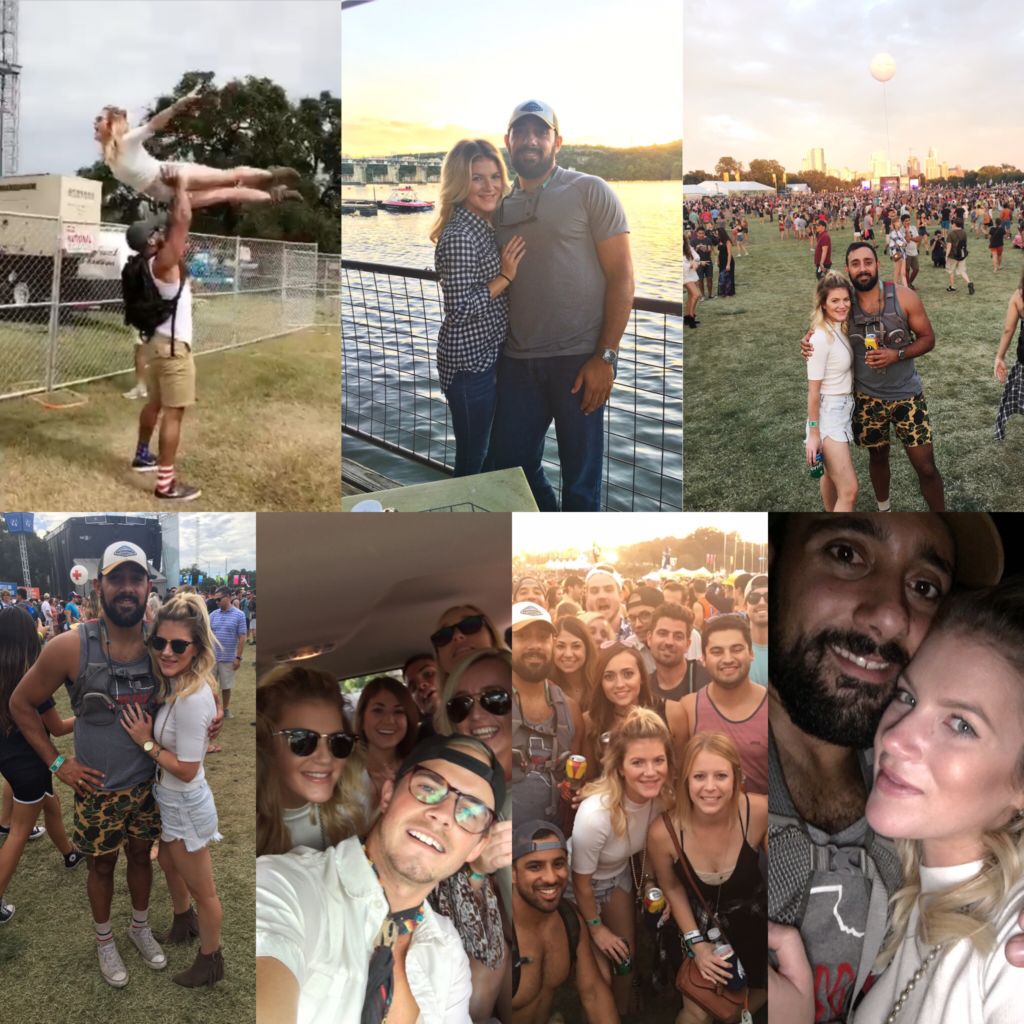 Let's talk about my outfit! This top gives me all the feels and I have never met a bell sleeve I didn't like. It has two other components that make me love it even more and it's the little neck tie detail and crop length. I used to be a stickler about white after Labor Day but I think that rule has been long gone for quite some time, so I paired them with these white high waisted jeans! Get over it if you're reading this and you're saying "ooooohhhh nooo, she didn't!" I did, and it's going to be okay! If you have pieces that transition from summer to fall WEAR THEM! 🙂
I have some exciting news to share with you, but I'm going to be a tease and wait for Friday! Have a great week!