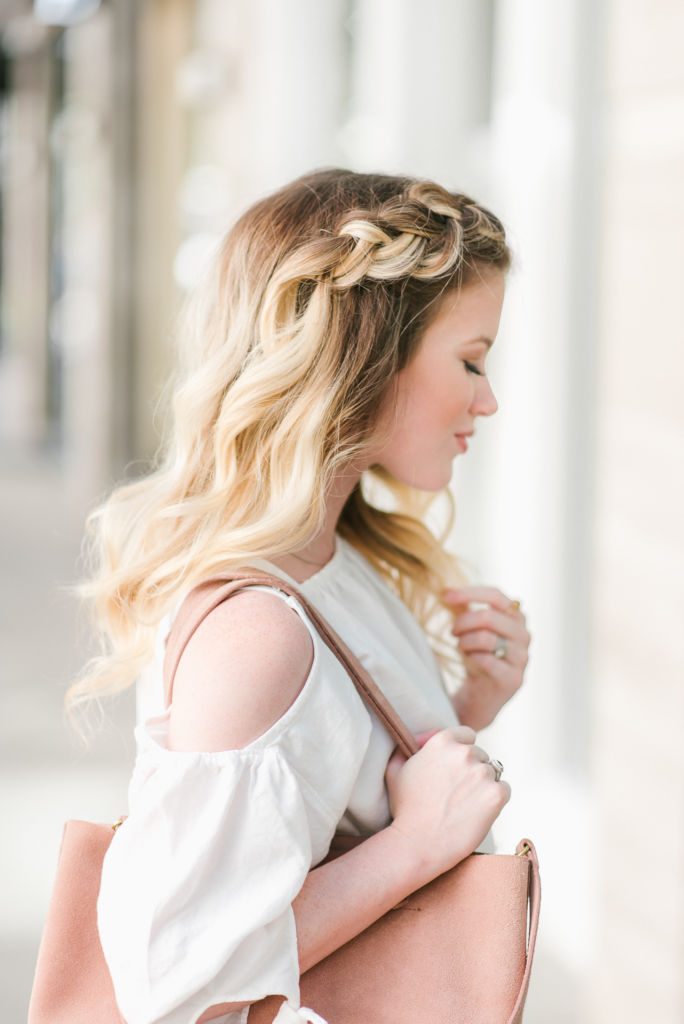 SHOP THE POST

MADE WELL TOP | MADEWELL PURSE | J.CREW DENIM | STEVE MADDEN MULES | DAVID YURMAN BANGLE | DAVID YURMAN RING 
Allow me to paint my current situation for you: Lily is going H.A.M. in her jumper, I'm cooking in my St. Tropez Express tan, drinking cold coffee, and watching Live with Kelly & Ryan. I like to think that I bring the down-to-earth side of our blogging duo because let's be real…Kailey is the fabulous Texas version of Carrie Bradshaw (without the scandalous behavior). Although even with the unfancy portions of my life that mamahood brings, I love being a mama and every single second I get with my girl.
Speaking of mamahood, let's talk about my outfit. I now completely understand the "barely awake but functioning" feeling that most super mom's feel, but I stand firm in the simple fact that you don't have to look like you feel INSIDE  on the outside. My go-to hiding any lack of sleep is a good, easy outfit. Even when I don't have time to put a lot of effort into my hair or makeup, this look is really my go-to. Cute top, comfy but flattering jeans, and sandals or mules. I'm practically living in these J. Crew vintage crops because the high waist is so flattering and they have the perfect amount of looseness in the leg. My top is Madwell, and I'm juuuuust slightly obsessed with this store. I buy A LOT of my staple pieces there, and their sale section never disappoints. I've linked all of my outfit details and beauty products that help me not look like a zombie with a baby on its hip! My tote is also from Madwell, and it is on SALE! It's the perfect size to carry your needs + baby's. My top only has large and xlarge so I have also linked some of my other favorite tops, too! Regardless though, if you're a mama, you're killing it…messy bun and sweat pants and all.
Kailey and I are going on an overnight girls trip to Austin on Sunday, and we are really excited to spend some overdue time relaxing with friends. However, please pray for my sweet Jacob who will be enduring his first night alone with Miss Lily! Lord knows she's sweet, but boy can she be sour going down for bed! Happy Friday!