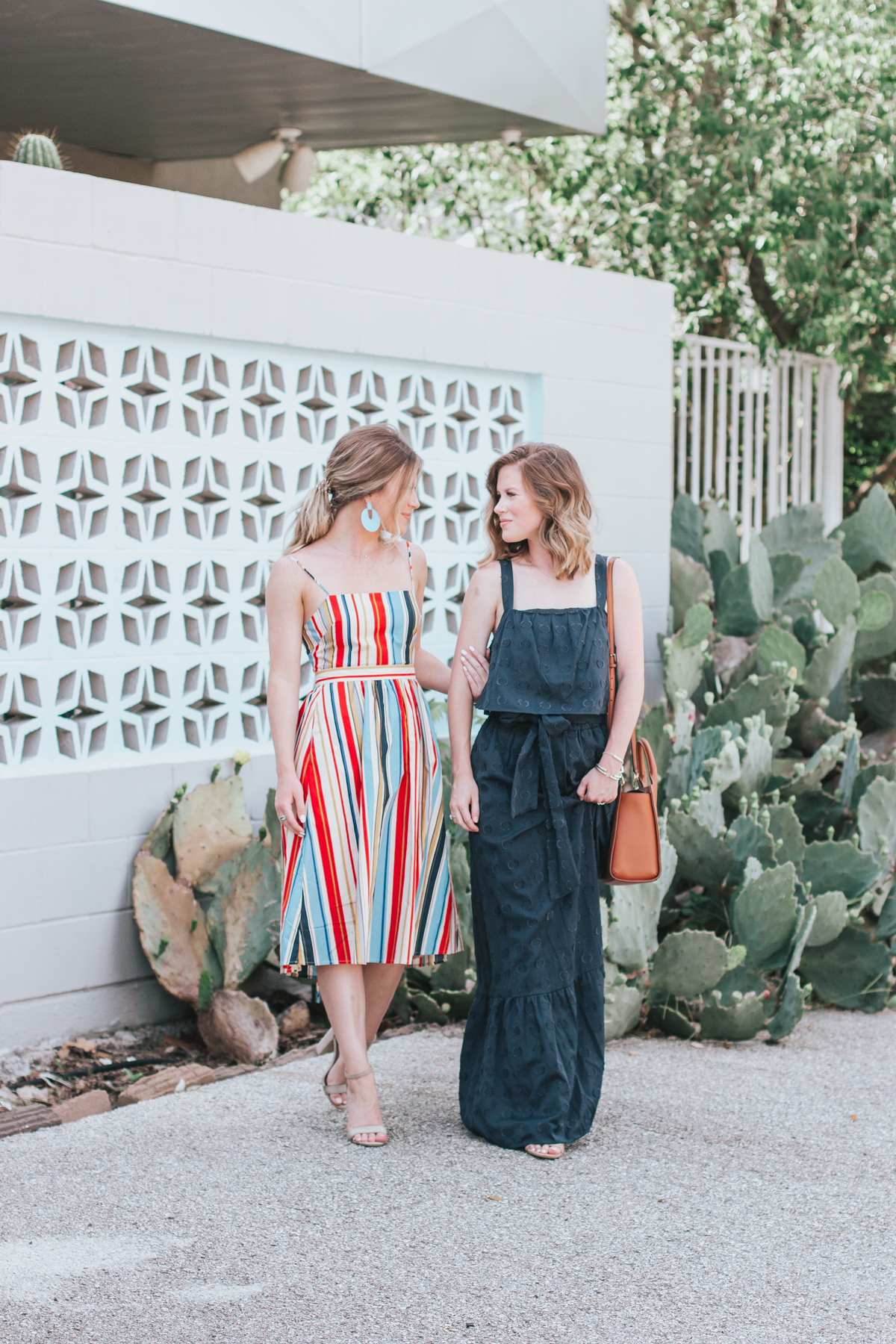 SHOP THE LOOKS

J. CREW NAVY DRESS (SIMILAR) | SALTFLAT ASTR STRIPED DRESS | KATE SPADE PURSE | KENDRA SCOTT BLUE EARRINGS | STEVE MADDEN HEELS | KENDRA SCOTT BRACELET | DAVID YURMAN GARNET RING | DAVID YURMAN 'X' RING | DAVID YURMAN BANGLES (1 & 2)
Hey, gals!
It's my last week in town before mine and Paul's European adventure (holy moly!) and the excitement of a trip + stress of packing have officially set in! Last time I went to Italy I packed entirely too much, so I'm really trying to be minimalistic this time around. I'm a little nervous leaving work for a whole two weeks but Hailey always holds the fort down for Etoilly Artistry and my Saltflat babes keep the show going. I always feel a little guilty traveling as much as I do, but that truly was one of the reasons why I decided to work for myself. So while I'm young and baby-free (not happening any time soon, might I add) I'm making as many memories as possible with my love and seeing all the places my little heart desires.
Hailey is busy with renovations/decorating her new house and I accompanied her to our favorite classiest and upscale store in town, Target, to pick up a few essentials. We picked up rugs for the girls' bathroom, living room, and master bath. Paul is also renovating his house and I found a few goodies from the Magnolia section. Target is seriously the most dangerous place on the planet. Walk in with your sister just to get rugs and end up walking out spending $73 on yourself. A typical Monday in my book!
I bringing lots of dresses on my trip. 1. Because they are easy to fold and 2. they are effortless and easy to just throw on a go. This dress is from Saltflat and I knew it needed to be mine the moment it came in. I try to leave goodies like this for my customers by I had to be selfish and snag one for myself! I love the criss-cross back, adds a little sexiness to the modest neckline and midi-length hem. Can't wait to wear it while soaking up the sun in Capri!
Working on a packing list for my trip so keep an eye out for it this week!
Xo, Kailey