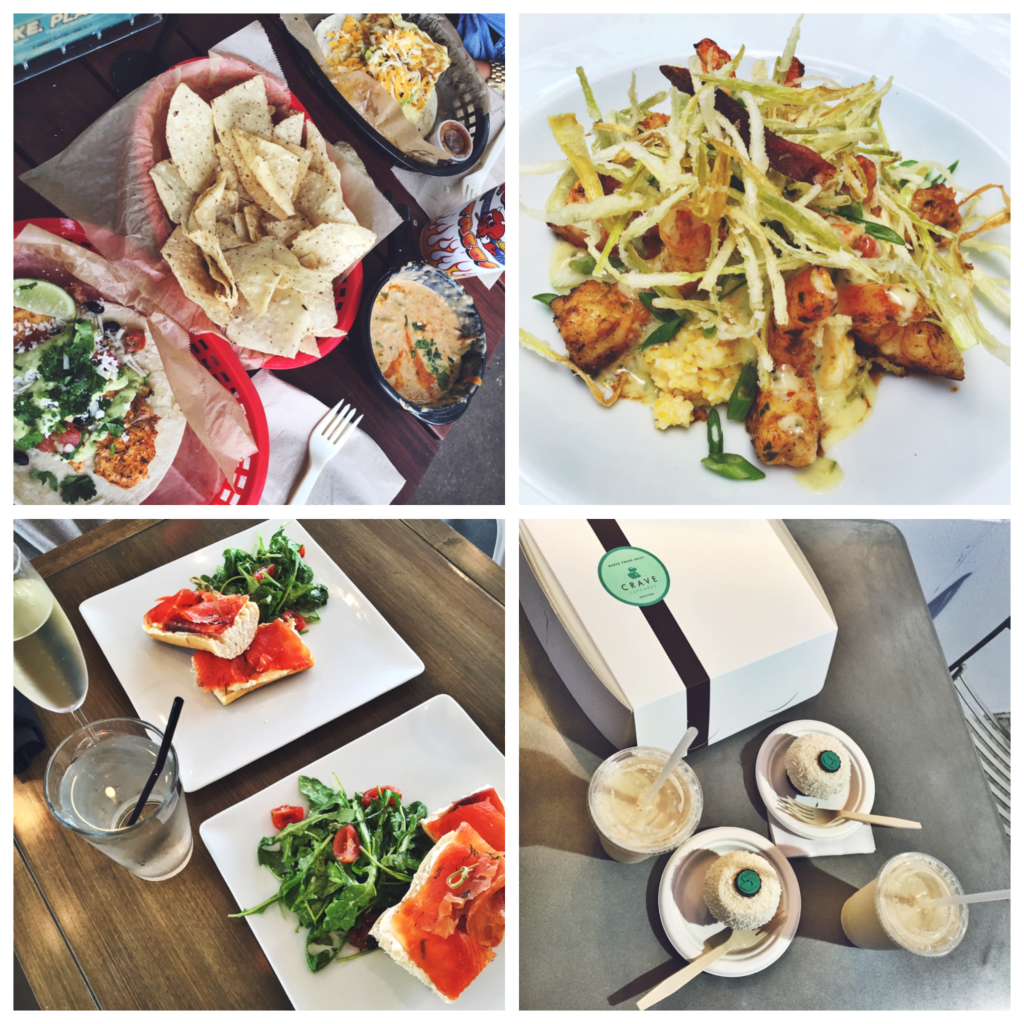 Starting from top left working clockwise:
Torchy's Tacos in Rice Village
Backstreet Cafe off of Sheppard
Drexel House off of Westheimer in Highlands Village
Crave Cupcakes off of Post Oak
People find it extremely hard to believe how much we love to eat. Our barely 5 foot bodies can put it down. But when you live in a city that has well over hundreds of fantastic restaurants, it's not that hard to do. Here are a few of our favorites above that we recently have posted on Instagram within the last couple of weeks. And here's why we love them!
About once a week, we go to Rice Village and do a little shopping! So of course we stop at Torchy's Tacos! Their queso is to DIE FOR. And I really would. Serious. Our favorite taco is Mr. Pink. So good.
Backstreet Cafe is the cutest renovated house off of Sheppard. It's a little pricey but they have the most perfect Sunday Brunch. And y'all know how much we love to brunch. We either get a Bloody Mary (perfect amount of spicy with a pickled ocra, YUM) or their berry mimosas. Last time we went, Hailey tried their Lump Crab Cakes and they were heavenly. I (Kailey) always get the same thing and it never fails me, Texas Gulf Shrimp and Stone Ground Cheese Grits. When you're from the South, you eat shrimp and grits. No questions about it.
We are borderline OBSESSED with salmon lox. Drexel House is on point with their baguette with lox with wasabi cream cheese. Wasabi cream cheese, is this real life? SO GOOD. And it comes with an amazing salad. We also love their Spanish breakfast and their chicken and qwaffles. Not only is the food great, but they have the nicest staff! It's located off of Westheimer in Highlands Village. We love the location, lots of great shopping!
Who doesn't love dessert? Cupcakes are our weakness, and Crave Cupcakes off of Post Oak is always our go-to place after dinner! Our favorites are their classic vanilla and carrot cake.
So, if you are ever visiting Houston you must try these places! They won't disappoint! We'll do another foodie recap soon, we are always finding new places in our beloved city!