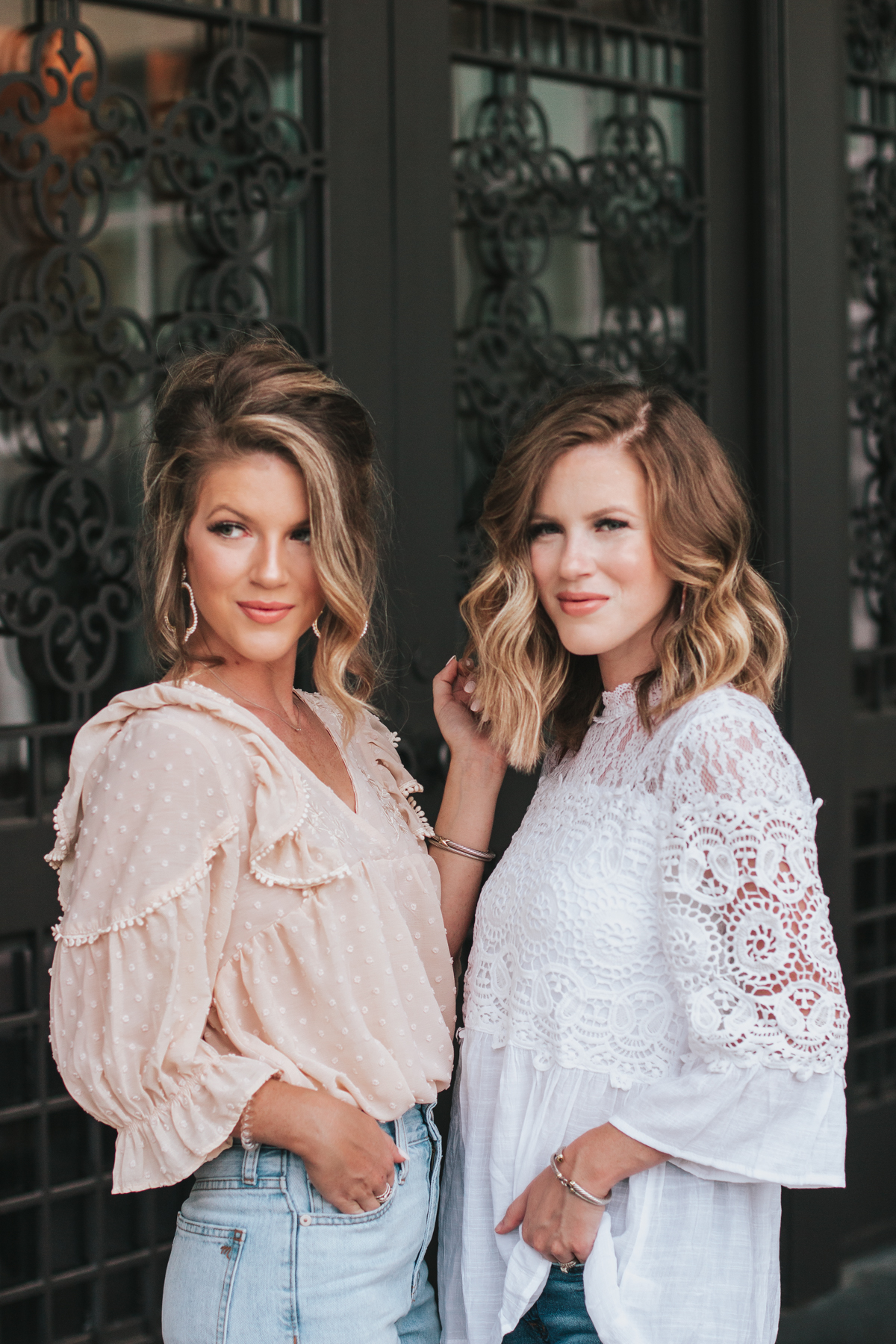 SHOP THE POST

VICI PINK TOP | VICI WHITE TOP | MADEWELL JEANS | DAVID YURMAN BUCKLE BRACELET | DAVID YURMAN 'X' BANGLE | DAVID YURMAN RING
Hey, gals!
Happy Monday! Hailey and I are rather exhausted but so incredibly happy for our sweet friends that tied the knot this weekend! We had the absolute honor of doing all of the hair & make up as well as being bridesmaids and it was easily the best wedding we have ever been a part of. There's something so special about getting your best friend ready to marry the love her life. There were tons of laughs, mimosas, tears, and just fun had by all in the bridal suite from 9 Am to 4 PM. Every single one of the girls felt and looked beautiful and we as the hair & make up team couldn't have been more honored to be a part of the wedding in that way.
Since all of the bridesmaids + bride are such great friends of ours they made some very sweet, personal compliments to Hailey and I while we were working that we usually don't hear from a normal wedding party. We knew we always worked great with one another, but having someone that's close to you say how much they recognize the cohesiveness of our work made us really think on why we have such a great work relationship.
Working with your family is such an enormous blessing, let alone owning two businesses together is more than we could have ever prayed for. We've grown in a way that has truly made us respect one another and what we are doing for our future/lives. We are forgiving of each other's short comings because we will all make mistakes or disappoint one another at some point in time. We praise one another when we've created something beautiful. We critique one another so we can be the best that we can be. Hailey likes to call me Critical Kailey, so I'm assuming that I give Hailey my two cents more than I should so I'm working on it, lol! Even in times that we want to strangle one another, we both have the same goals in mind and the love we have for each other is far greater than any deal we close. That's always been at the forefront of our businesses.
I think our biggest advice for someone that will be working with their family is to always have each other's best interest at heart. To treat one another with respect and like they are a regular old colleague. It's really easy to lose sight of that because you typically treat your family a little differently than you would your boss that has hired you straight out of college or your office mate that sits next to you each and every day. There's just a different level of expectations when you work for/with your family.
Hailey and I really work at having a professional/personal life balance and that has definitely played a part in our success. After 6:00 PM, Hailey and I stop answering emails, calling each other about schedules, and brainstorming ideas for the blog and Etoilly Artistry. If there's something that we haven't finished for the day, we leave it for the first thing to do the next morning. Hailey has two little ones at home, and I'm almost certain that her role as a stay at home/work from home mom is the greatest thing she has ever done. She is teaching Lily & Claire that you can be a go getter business owner while teaching them sacrificial love every day. I truly hope when that time comes for me of being a working mom that I can be half the example to my kids as she is to my nieces. She does it so well!
"My favorite thing about Kailey and us working together is her sense of humor, never taking herself too seriously, and being able to travel/live an adventurous life egardless of our busy schedules! She puts a piece of her heart in each business and she's so passionate about her work. Owning three businesses is a rewarding/tough position to be in but she does it with the most optimistic disposition." – A little bit from H
Thanks for stopping by and we'll catch ya next time!
Xo, Hailey & Kailey