Hey, gals!
Our Europe trip was a magical two weeks and I'm so excited to share with you what we did, what we ate, where we stayed, and what I wore! We stayed at 5 different places (3 in Italy and 2 in France) so I thought it would be the most helpful if I broke down each city/stay per blog post! First up – Praiano, Positano, & Capri!
DAY 1
We got to DFW Airport around 10:45 for our 1 o'clock flight. We grabbed some snacks, had some lunch, and worked for about an hour before boarding our 1 o'clock flight. There was a suspicious leak coming from the plane that delayed our take off time an entire hour! Come to find out, it was the A/C unit that was sweating…better safe than sorry right?! We were off the ground by 2:30 and onward on our 10 hour flight to Rome!
DAY 2
We landed in Rome around 8 AM, we wanted to go in to the city so badly but we had a train to catch to Naples! From the airport we took a train to Napoli to meet our friends to ride together to the Amalfi Coast. I have been to Naples before (side note: all cities in Italy have an English translation hence Napoli vs. Naples) and it's a very industrial city and very busy. Our driver picked us up around 1 o'clock arranged by our Airbnb hostess and we headed to our villa in Praiano, a town about 10 minutes east of Positano.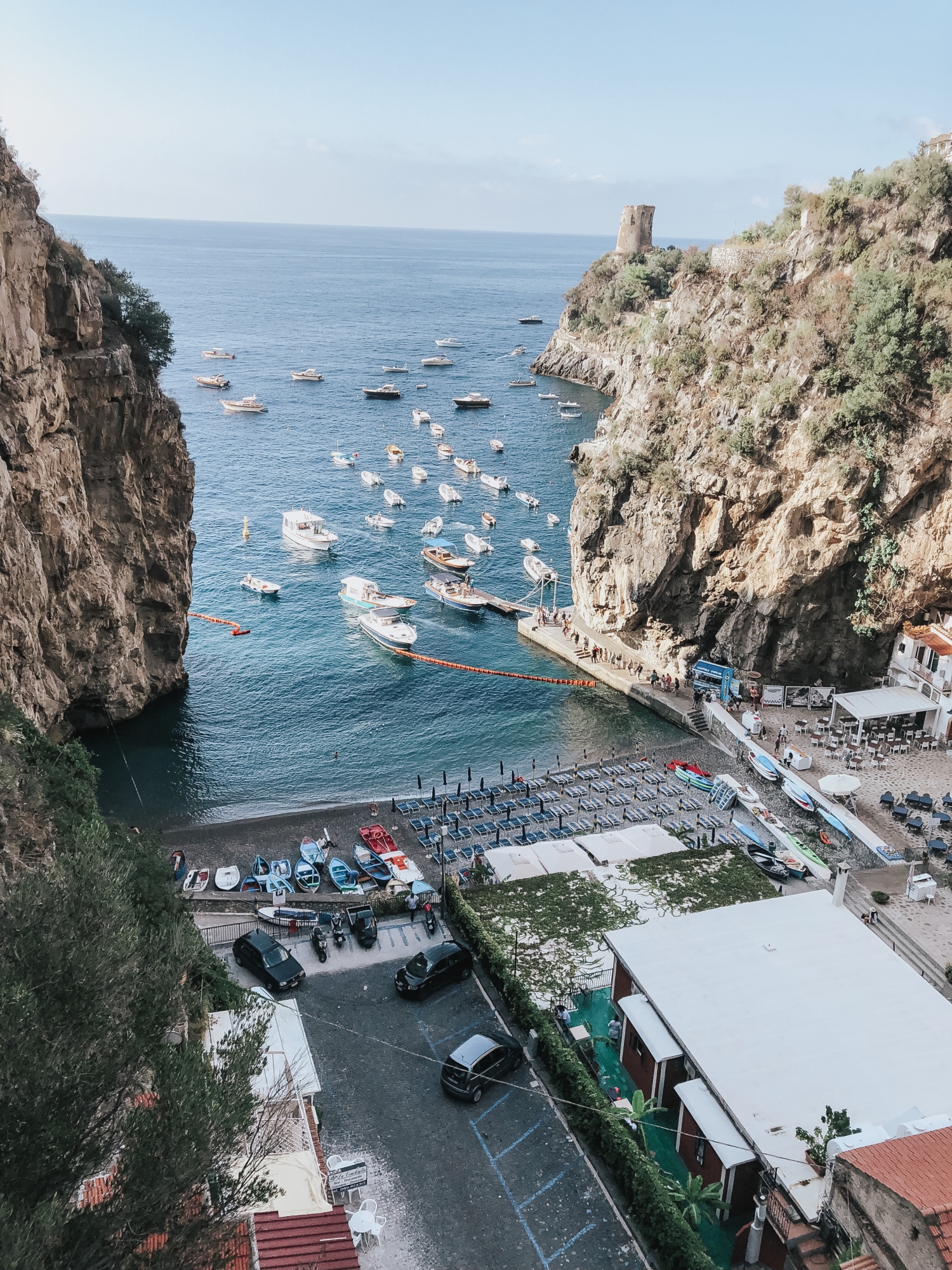 Our first view of where we would be staying! One Fire Beach and cove!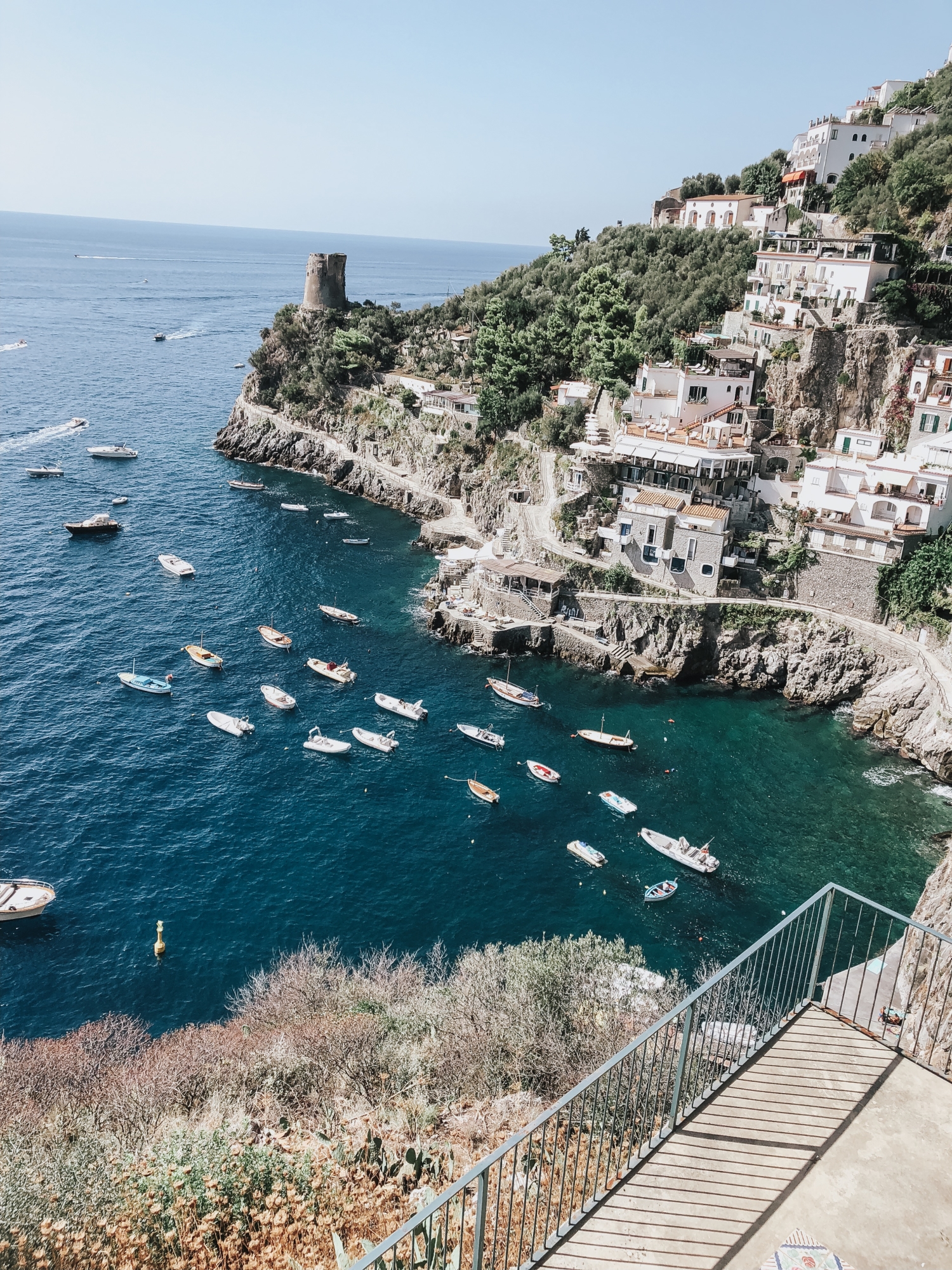 View from our villa's balcony – DYING!
So magical.
Our villa was incredible!!! I could have cried the moment we arrived to the gate. Here is the link to the villa if you want to check it out for yourself! We had the most breathtaking view of the Amalfi Coast and below us was the One Fire Beach. It was so unbelievably dreamy. Once we got settled in, we went to La Sirenuse for a Pisco Sour and a Paloma. If you want to visit this extremely popular hotel in Positano, you MUST get a reservation. We were graciously given 45 minutes without a reservation and we took it! After drinks we had to go back to the villa to let another couple in to the villa after their trying day of traveling. By that time it was already 9:30 and we were starving. We decided to walk down to the restaurant on the beach and it was one of my favorite meals. 9 bottles of wine, prosciutto melon, lemon risotto, and the greatest company.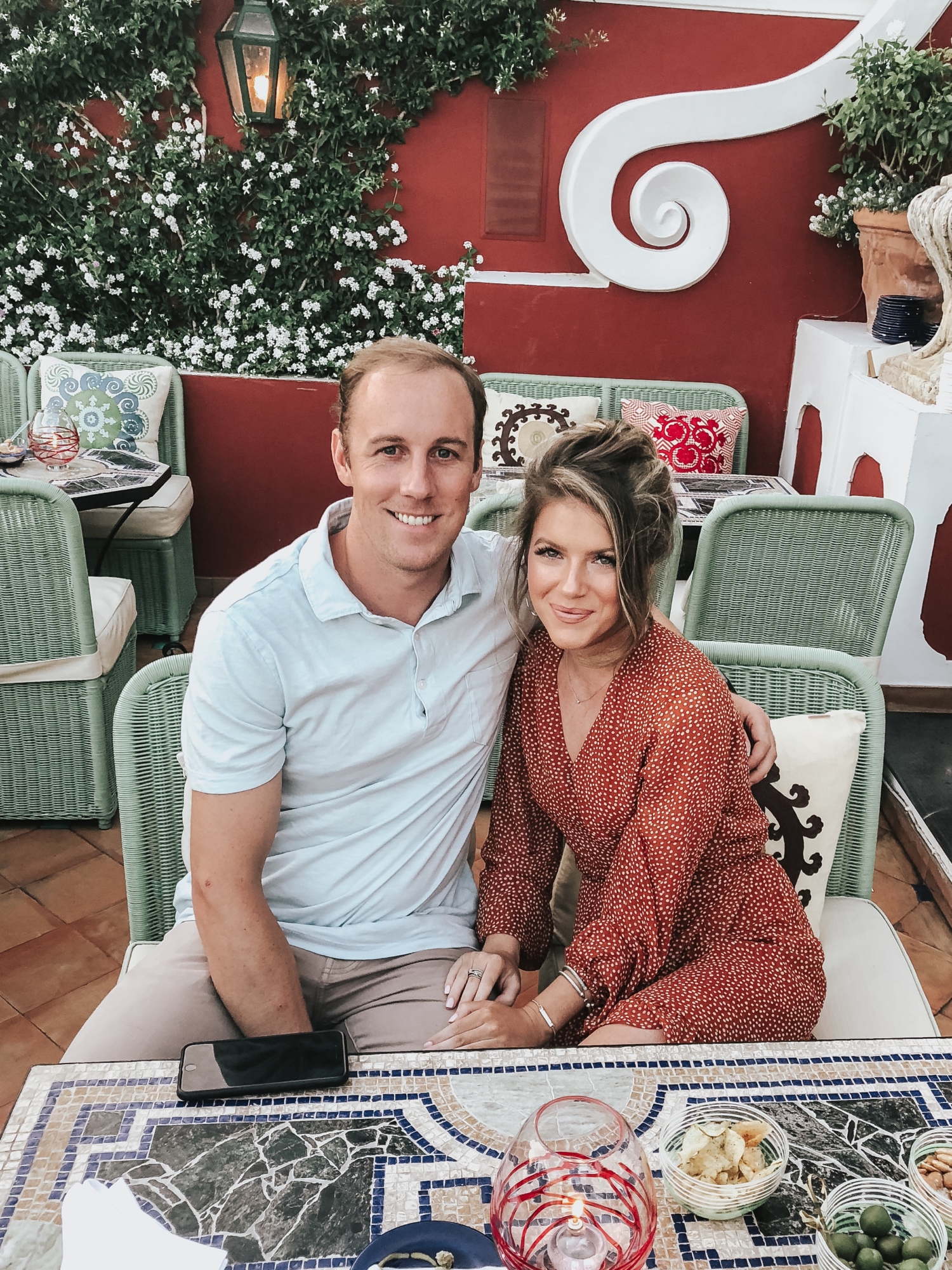 Love this man with all of my heart.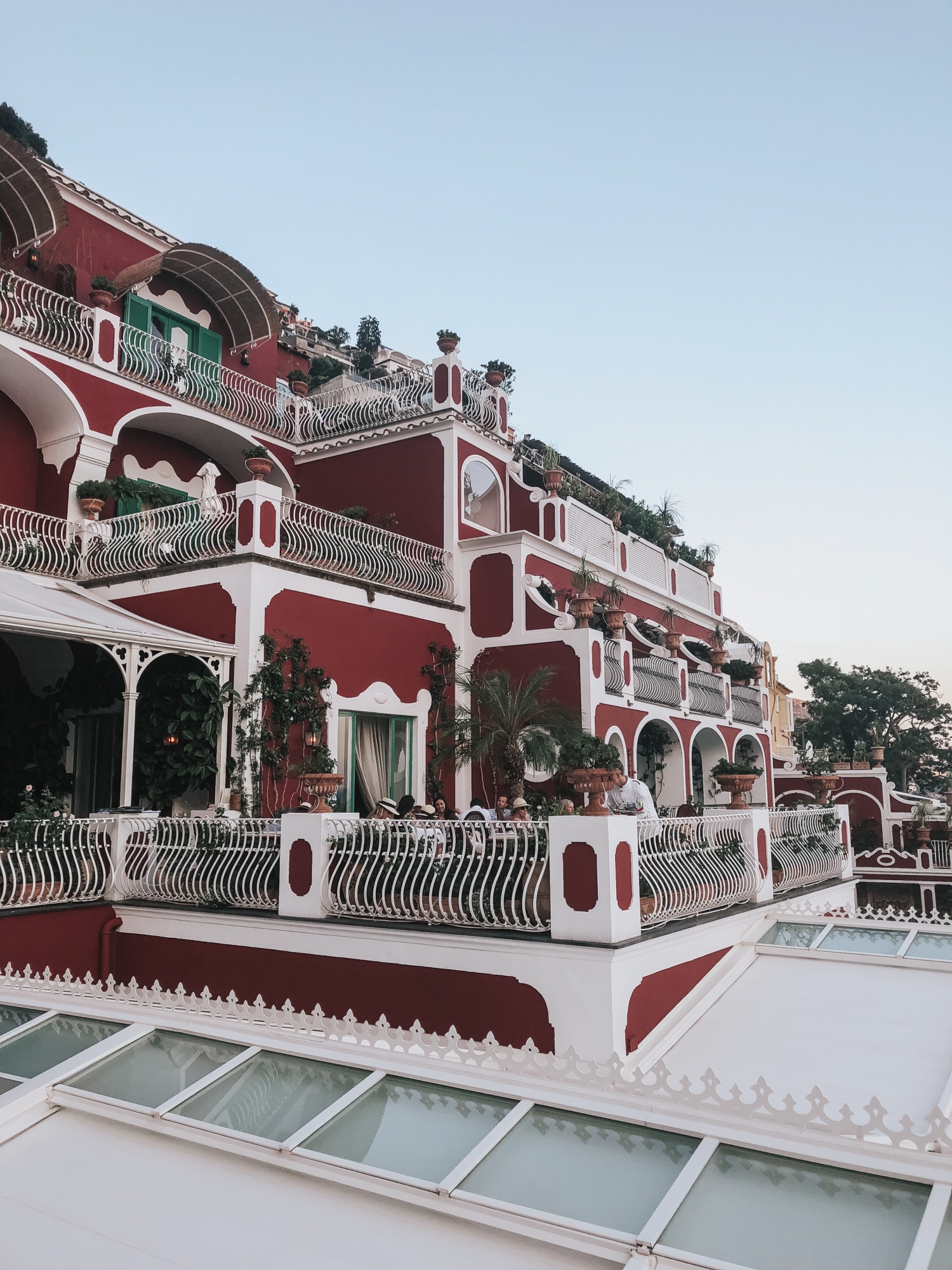 Le Sirenuse Hotel. It's so iconic to Positano.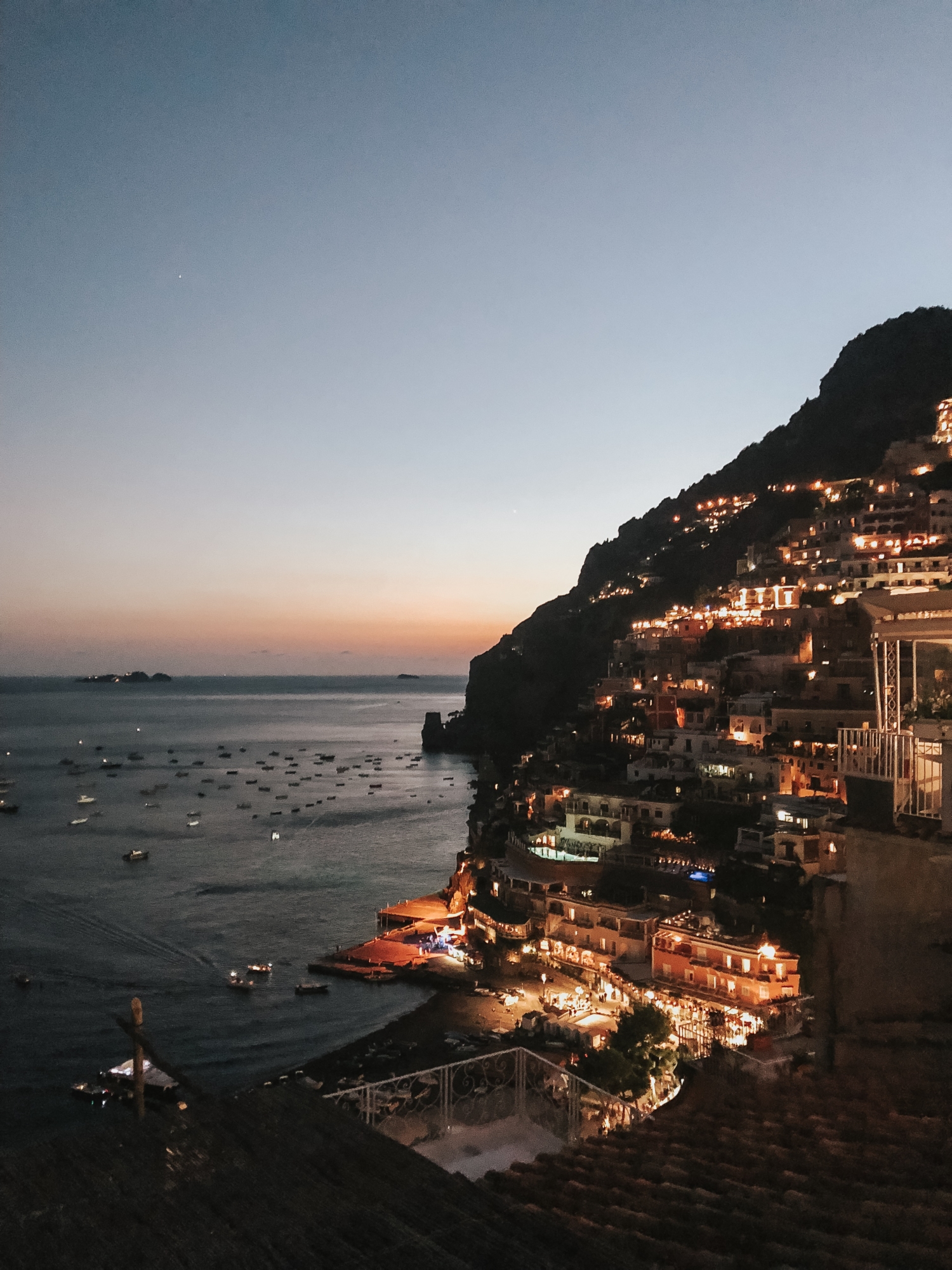 You're beautiful, Positano!
DAY 3
We got up around 11 AM due to being majorly jet lagged. It's a real thing! We put on some swim suits and walked down to the beach for lunch at Alberga Restorante for a margharita pizza and lemon soda (I am now obsessed with lemon soda and can't get enough of it!) We then went on a little walk around the cove to get a different view of the beach. At the very top you can see our villa on the cliff overlooking the beach – so amazing. After our stroll we went swimming at One Fire Beach – all rock bottom and lots of jelly fish. An Italian old man was literally picking them up with his bare hands and tossing them on the beach.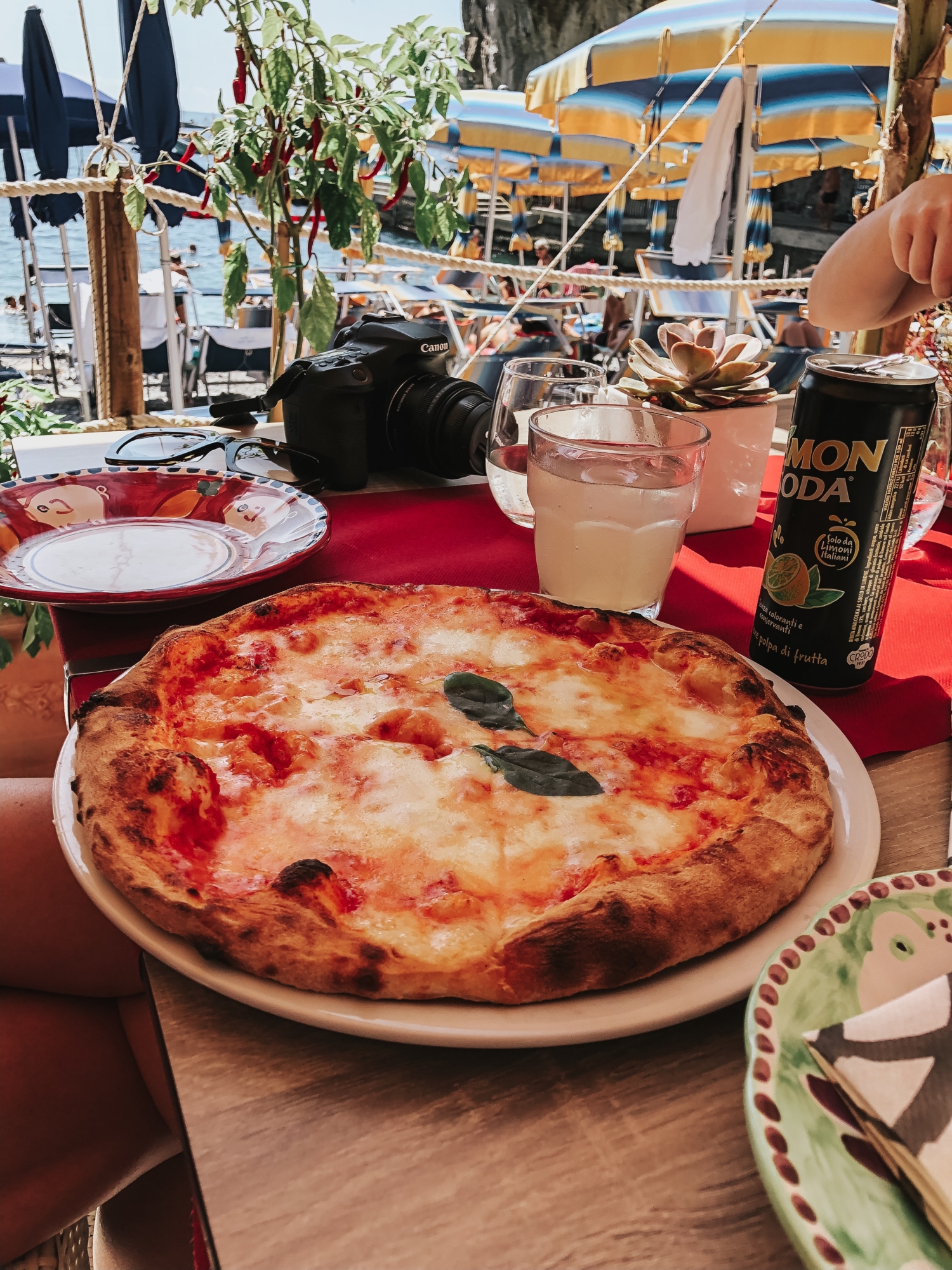 Lunch on the beach.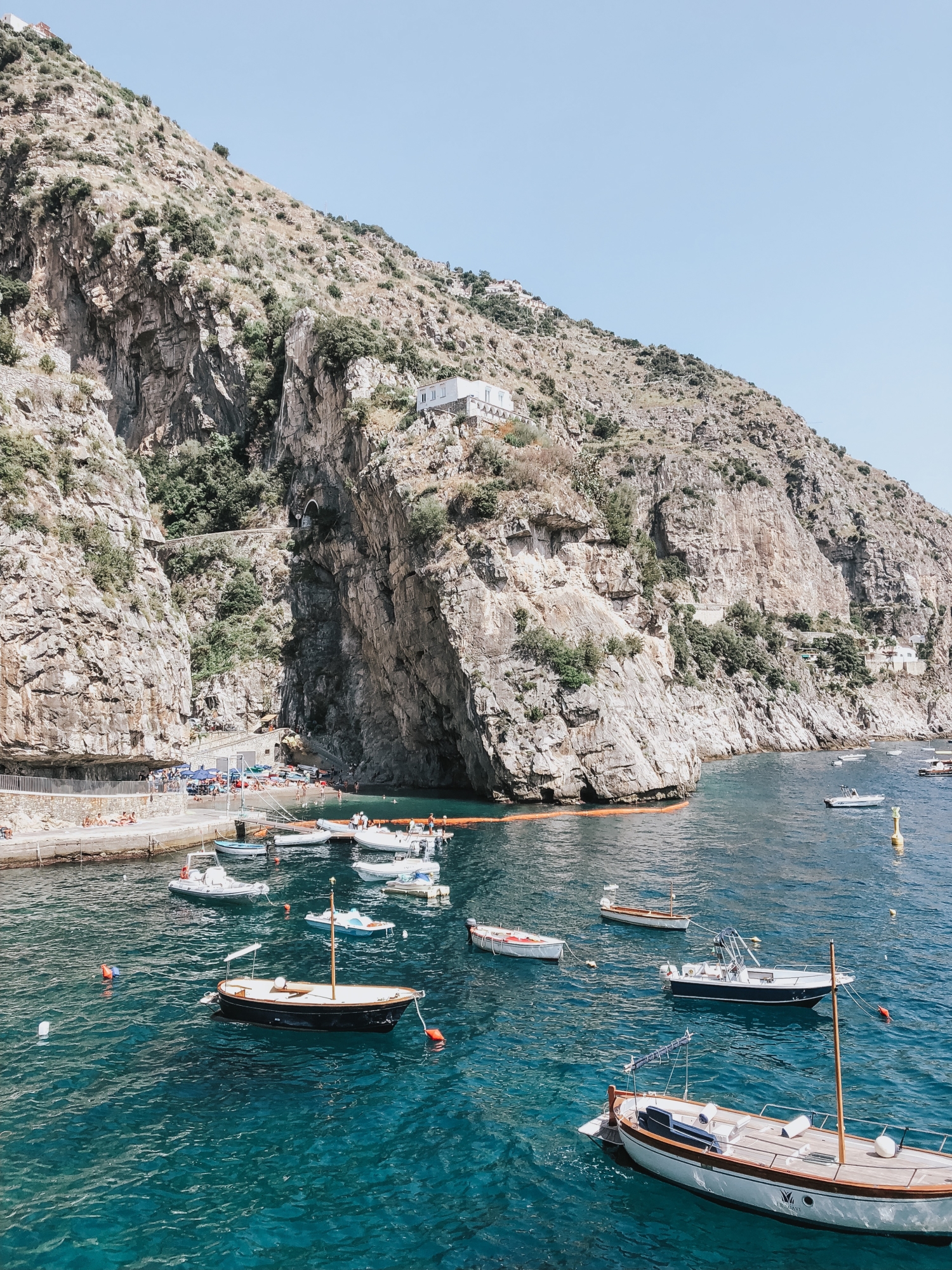 Our villa is on top of the cliff.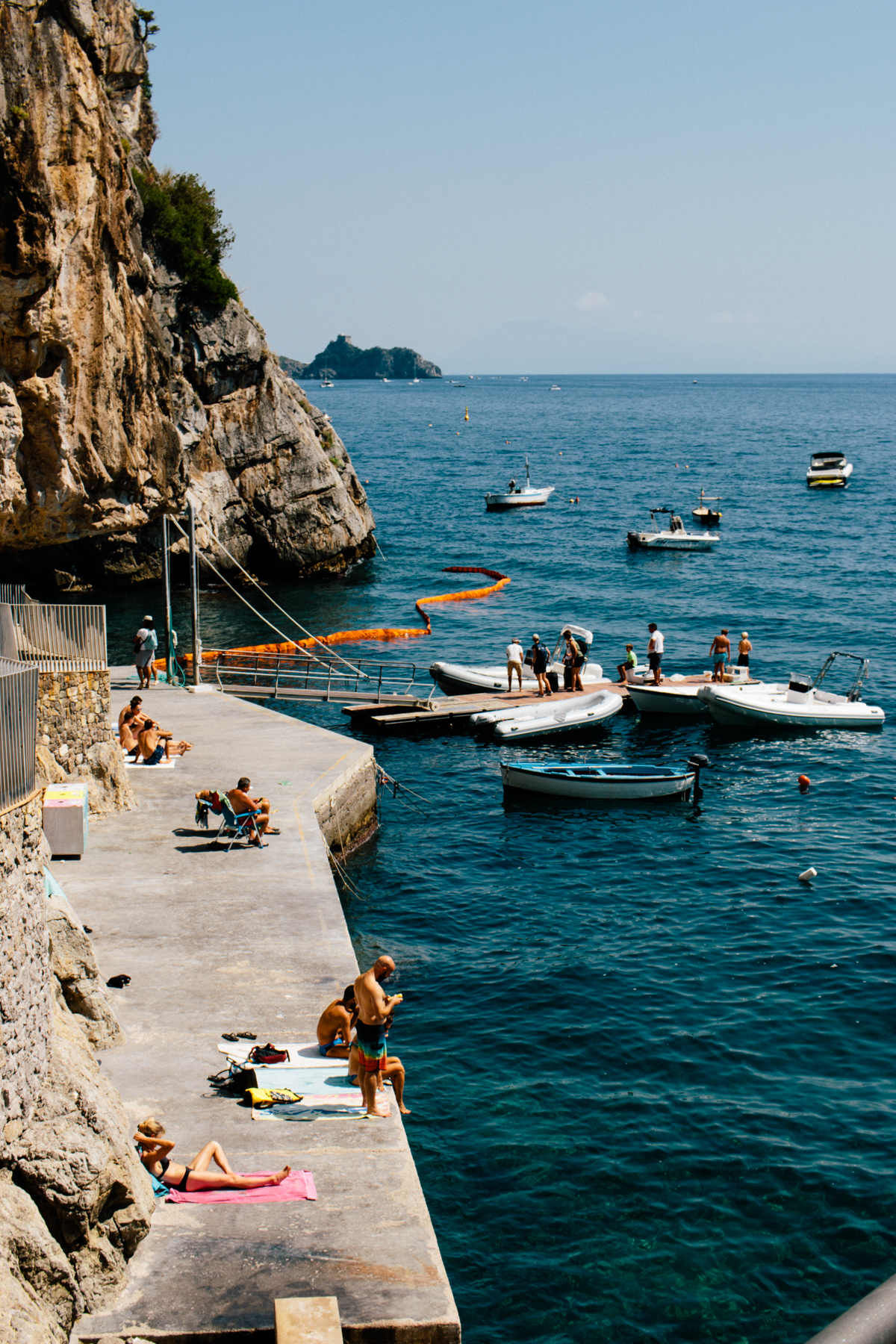 I love this photo Paul captured.
A little beach selfie!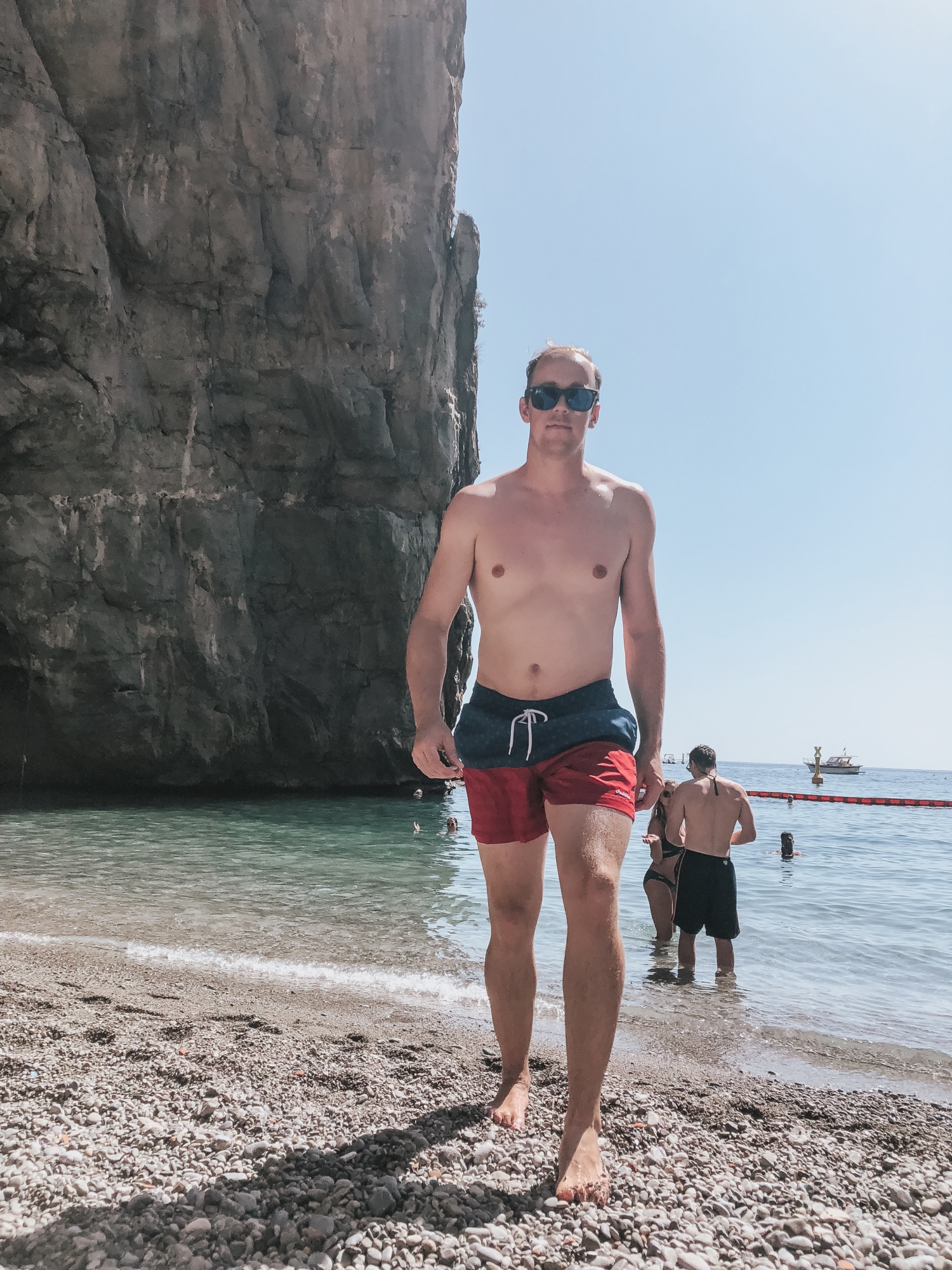 Like how did I get so lucky?
View's from our cliff side balcony.
Paul's favorite outfit from the trip!
After relaxing on the beach, we went to Ristorante M'ama for dinner. It's hidden in Hotel Margherita's, it's at the top of a winding staircase throughout the hotel. It's rated #1 on Yelp but I wasn't too impressed with it. I tried this fish and I couldn't eat it which is not like me. I made Paul trade with me. The saving grace of the meal was being greeted with complimentary champagne and we finished with limoncello.
We went to La Priatta for drinks after dinner before we went to Africana Club, the only night club in Amalfi. We love La Priatta, its a cave turned bar and drinks were cheap. 2 euro Peroni's and really loud music! We then walked along the cove to  the club and we crashed a wedding. Never did I ever think I would crash a wedding let alone in the Amalfi Coast. We danced the night away till 3 AM and definitely made some appearances in the newly married couple's wedding video. Such a fun night!
DAY 4 
We were all feeling our bad decisions from the night before when we woke up but there was no time to spare, we had a boat picking us up to go to Capri at 10 AM! We picked up a chocolate croissant and lemon soda to go for breakfast and then hopped on our boat. We picked up friends that were staying in Positano and then went straight to Capri. The hour boat ride to the island was breathtaking. Our captain pointed out different landmarks and told us some history of the Amalfi Coast. We got to see all of the grottos – highly recommend if you ever have the chance to visit Capri. We then anchored at a cove and we got to swim in Mediterranean Ocean. The water is so crystal blue that you can see the fish swimming beneath you. We sipped on prosecco and ate fresh fruit, a little bit of a Jackie O moment. We had lunch on the island and it was the best pasta I had the entire Amalfi portion of our trip. We walked around the Capri port for about an hour and had my first gelato of the trip. We wanted to go up to Anacapri and rent scooters but we simply didn't have enough time. We took our boat back to Positano, Paul and I skipped dinner with the rest of the group and we went back to Praiano to have a quiet dinner with just us two. We picked up a caprese salad and margharita pizza. After 3 long days of traveling and with a big group, I just wanted a moment with the two of us and it was perfect. That evening wrapped up our last day in the Amalfi Coast.
The beaches of Positano.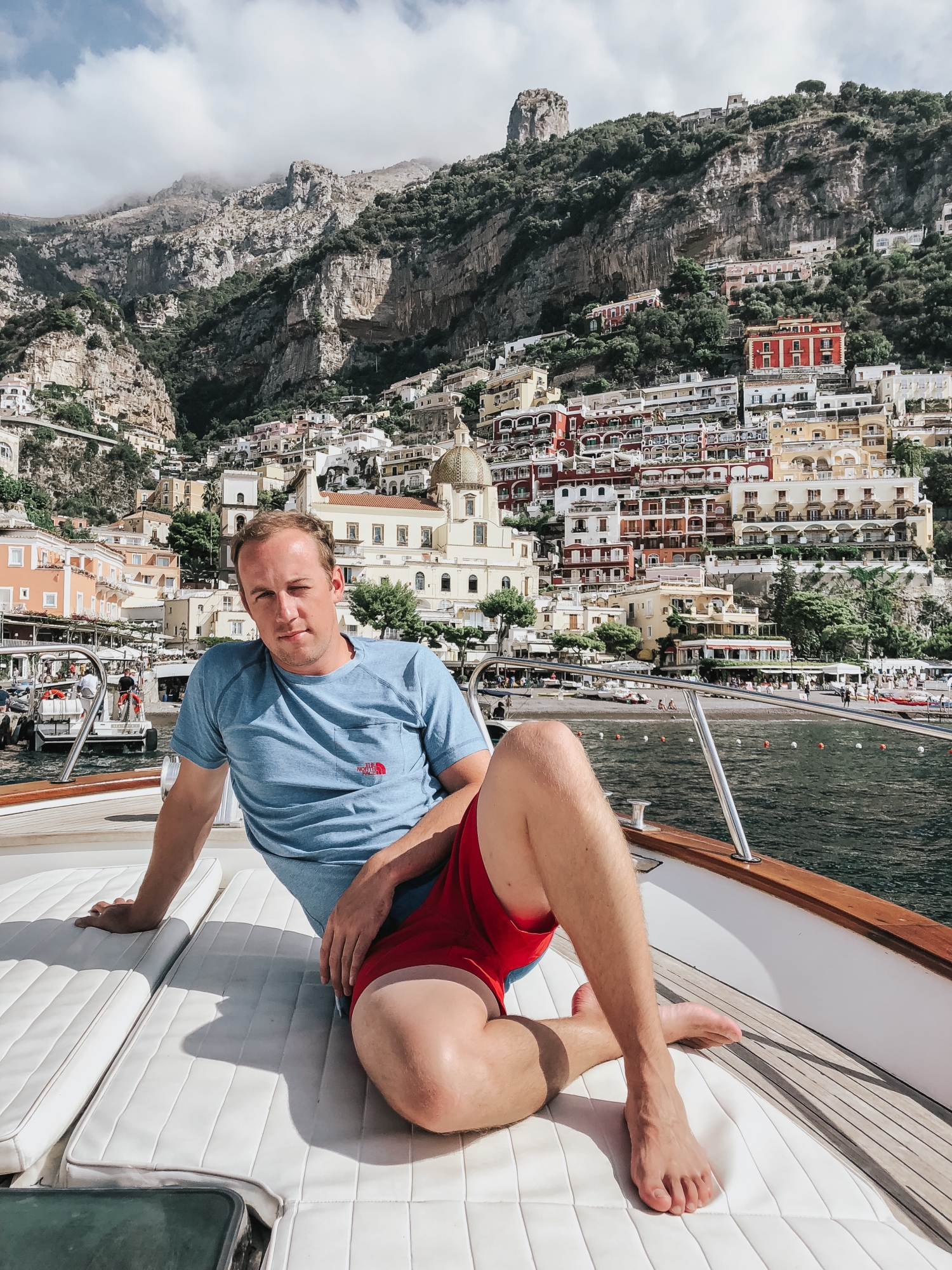 Excuse my language but HOT DAMN.
The island of Capri!
Loved seeing all of the grottos around the island!
One of my favorite moments of the whole trip!
The yummiest pasta.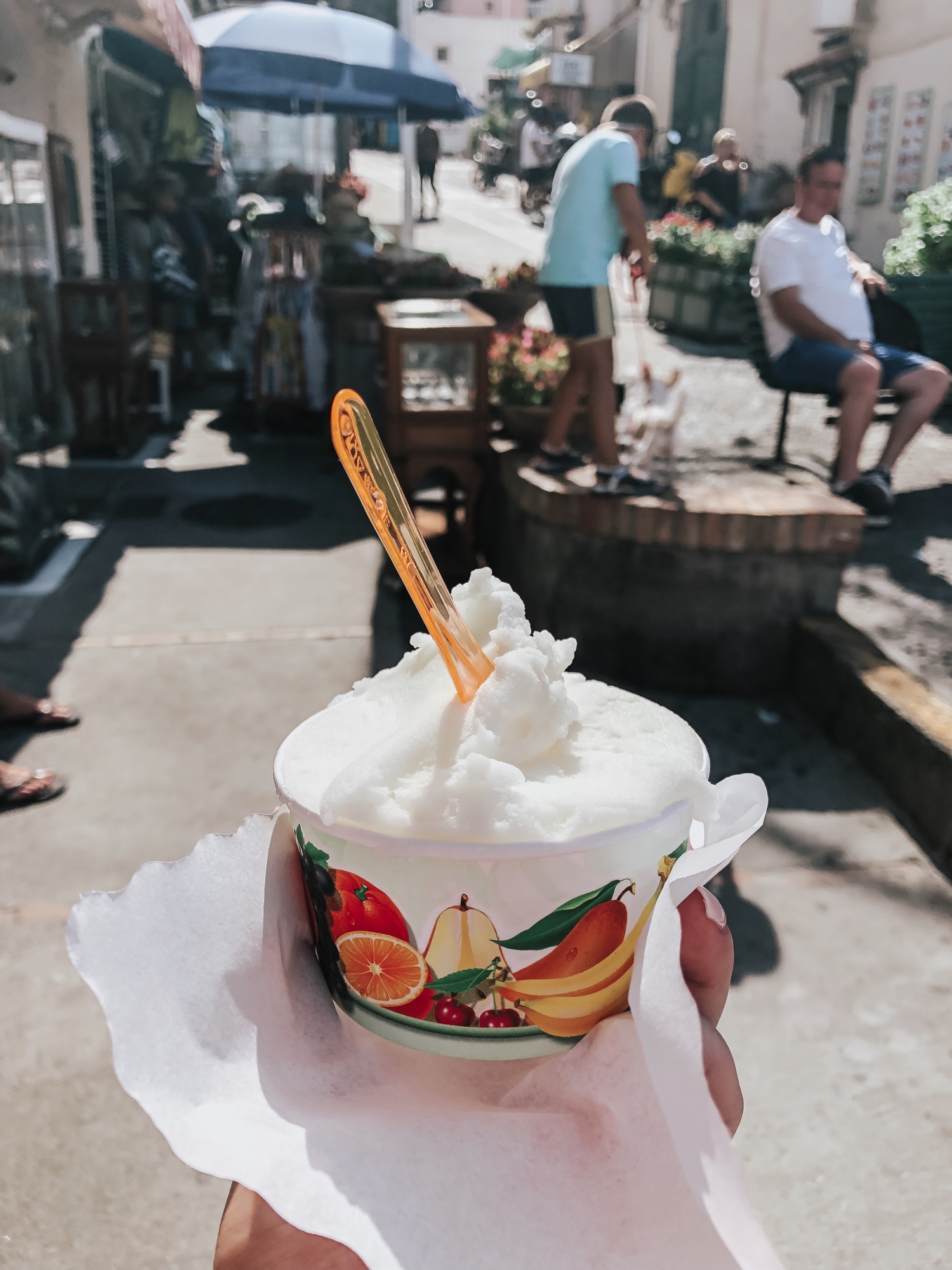 The first of many gelato!
Praiano, Positano, and Capri were one of my favorite stops of the trip. It truly felt like a dream and my biggest advice is to make reservations in Positano, book a boat ride to Capri, and enjoy the beaches! We'll go back one day, I'm sure of it! Ciao for now! Also, here is everything I wore on the Amalfi Coast!

Xo, Kailey