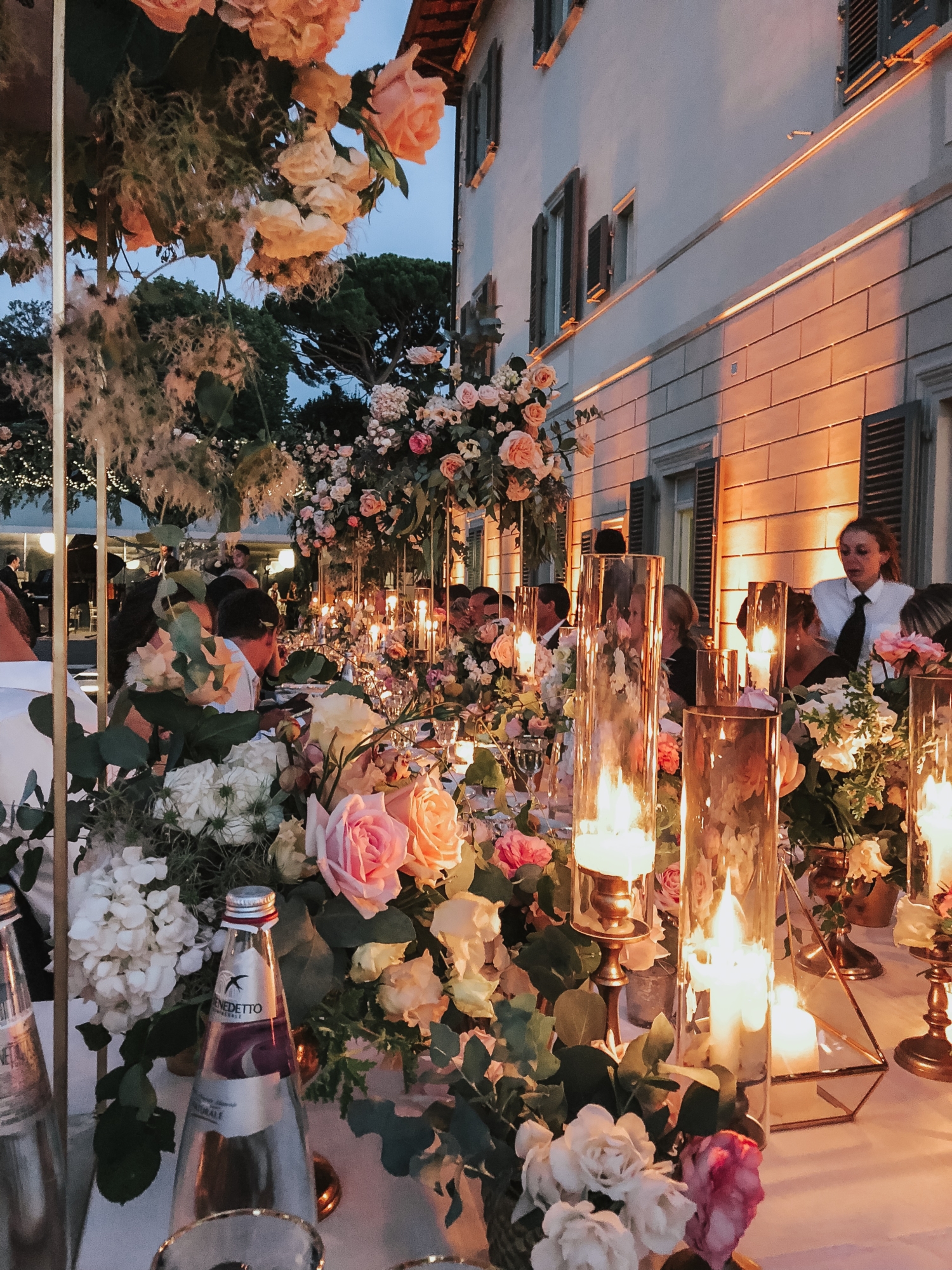 Hey, gals!
Finally getting settled in to my new home and trying to get on a new routine! I've been slacking on the blog posts but excited to getting back in the swing of things with a recap of our time in Florence, Italy! Its such a beautiful city and we had an amazing time! Here's a timeline of our second stop of our European adventure!
DAY 5
We left Positano at 9 AM, took a cab to the Naples train station, and headed to Florence! The day was going perfectly on time, and when we were 30 minutes in to our train ride it COMPLETELY STOPS FOR 3 HOURS. That is a long time to be sitting on train tracks and not moving at all. We finally got to Florence around 5 PM and we got settled in to our Airbnb. The delay pretty much ate up our entire day so we had time to do was walk the streets for a little bit and then head to dinner!
We had a fabulous dinner at Osteria dell'Olio and it was fantastic! We had a 3 course dinner that included charcuterie, smoked goos prusciotto truffle pasta, and insanely large steak! Our waiter was amazing, you could tell that he truly had a passion for sharing food and wine with people and that made the dinner all the better.
 DAY 6
Second morning in Florence Paul and went to go see the statue of David. You want to book your tickets in advance as the lines get incredibly long! Inside the museum there's a music section and we really enjoyed it. We then had a nice American breakfast on a side street. I'm not a huge fan of pastries and Nutella (basically what everyone eats for breakfast in Italy) and I needed a simple fried egg and bacon!
Our next stop was the Gucci Garden which is a museum of the designers work over the years! I thought Paul was going to hate it but he seemed to actually like it! The tickets were 8 euros and I highly recommend squeezing it in to your itinerary whenever in Florence!
 After the Gucci Gardens, we took a stroll through a plaza with the replica of David and original statue of Madussa. We then walked down Jewelry Bridge – row of jewelry stores with diamonds and gold! I really wanted this beautiful turquoise ring but it was 650 euros, waaaayyyyy out of my budget for shopping!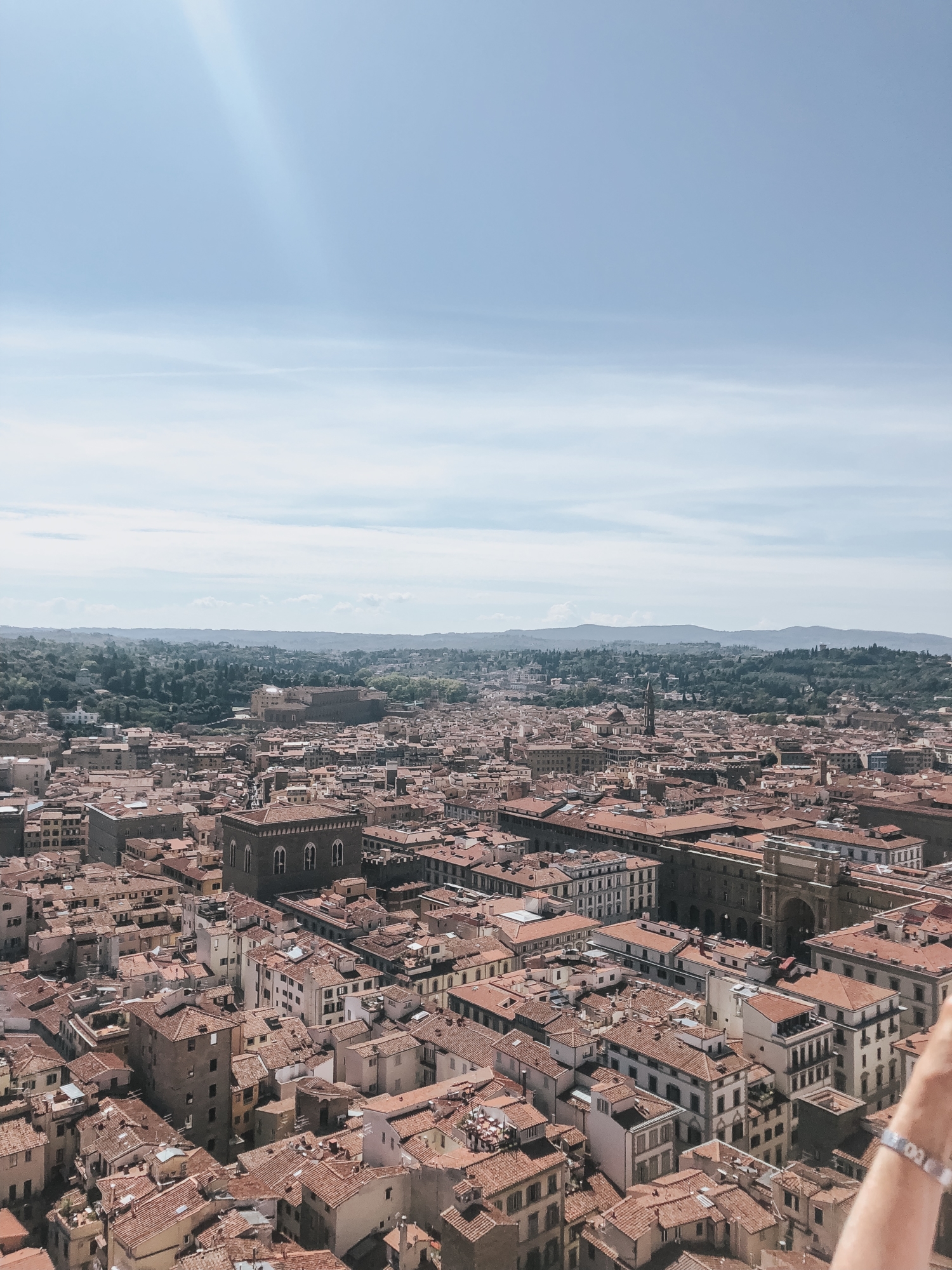 Afterwards we climbed to the top of the duomo, fantastic views to be seen from the top! I will say it was a true test of my self control as I am extremely claustrophobic and the entry up the stairs is about 4 ft wide..not an easy task but I made it! We then had a nice late lunch and then headed back to our place to clean up before the welcome dinner.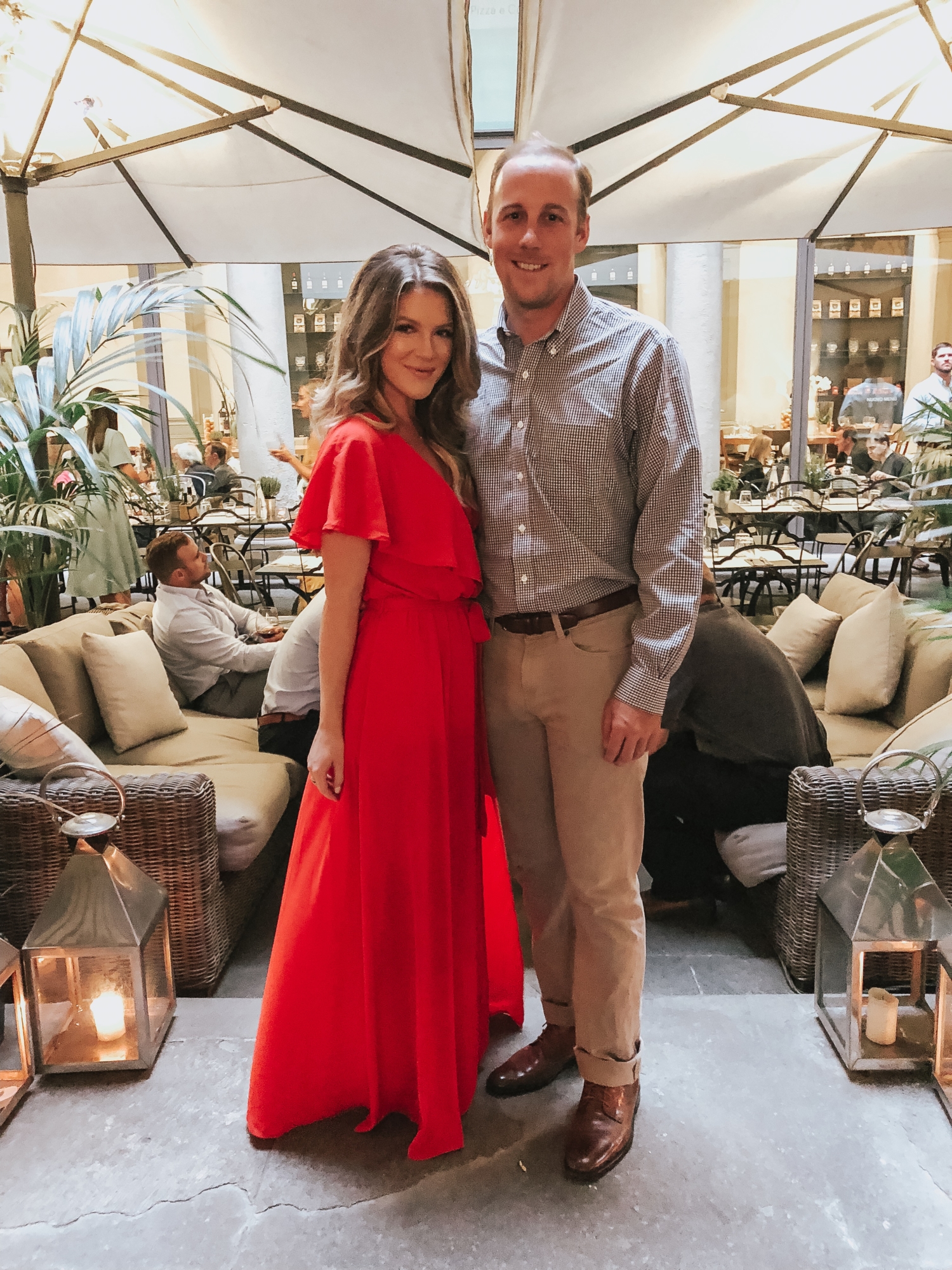 Us at the welcome dinner the night before Nikki and Colton's wedding! The main reason for our trip was for their wedding – thanks you guys!
DAY 7
We started off our day by walking the streets of Florence. We came upon an end of a car show in front of the palace. I like to call them James Bond cars, but really they were old classic cars and it was fun to see. We arrived at the Boboli Gardens shortly after – it was about 20 minute walk from our place. It's so crazy to think that the gardens were a backyard at one point. The grounds were a little under groomed but still really pretty. Be prepared for the plenty of stairs and hills. We then stopped for a quick latte and then went back to get ready for the wedding!
One word – WOW! The wedding was absolutely stunning. It was at Villa La Vedetta Firenze and it was straight out of a fairytale. It was unlike any wedding I've ever been to and it was so special to get to witness the exchange of vows between our sweet friends. Beautiful ceremony, Bellini's on the line for cocktail hour overlooking the view of Florence,  four course dinner with wine pairings, and danced the night away under the stars to the wee hours of the morning. They had a live band and they were incredible, they truly made the night an experience. After hearing what went down at the after after party…I'm not sure we'll ever be back at the villa but at least we had a spectacular time!
If you ever have the chance to visit this amazing city – DO IT! It was Paul's favorite stop of the trip and we had the time of our lives. There's nothing better than traveling with your person.
Now on to our last stop in Italy…Venice!
Xo, Kailey