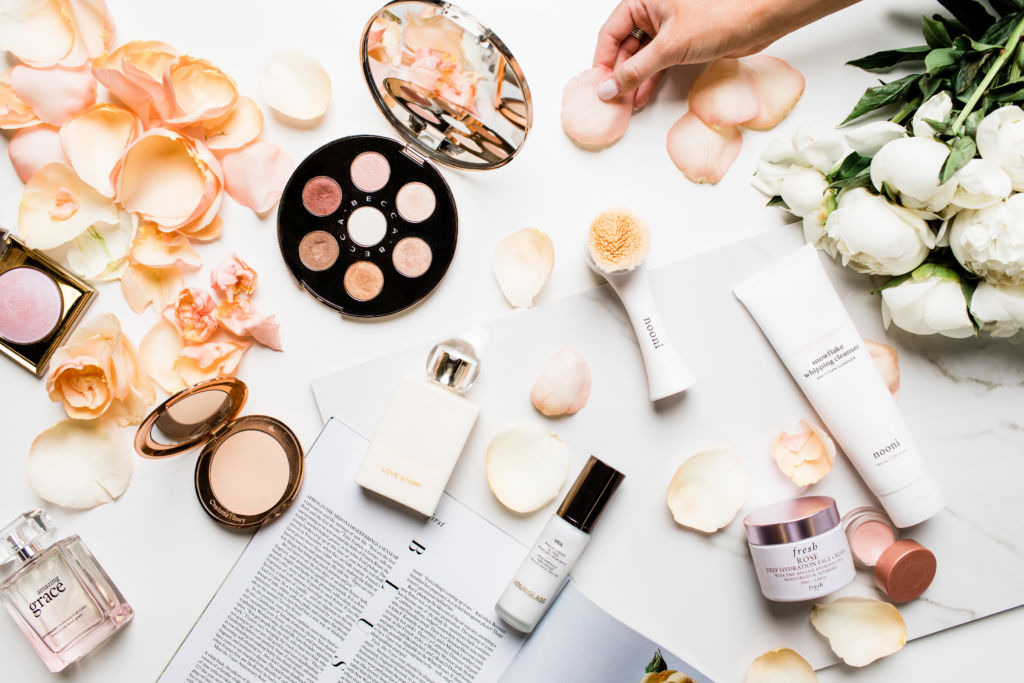 Hey, gals!
Happy Monday, who is ready to get the week started with a beauty post?! Whether you're the gal that goes au natural with minimal to no make up to the beauty queen who is obsessed with trying new products – a flawless complexion starts with a personalized skincare routine. Today I'll be sharing the products that have helped minimize my pores and fine lines, have given me a more even tone, and what creates my signature make up style!  We used the new question feature on IG stories (it's so neat if you haven't used it yet!) and you guys sent us some GREAT questions regarding our skincare routines and make up products!  Hailey and I are so excited to dive deep into one of our favorite topics so lets get to it!
Morning/Night Routine
If you're a make up girl like ourselves, you know that pesky blemishes and problematic skin can ruin a foundation application. Make up clogs pores and can actually speed up the process of aging if you're not careful. Our mom and Nana both have really great skin, they have always used eye creams, treatments, anti-aging products, and drilled in us that you NEVER go to sleep with your makeup on! No matter how late you come home or tired you are, you go to sleep with clean skin and wake up with clean skin.
We start the morning off with cleansing, exfoliating, and moisturizing. I've been using Nooni Snowflake Whipping Cleanser for the past 3 months and have really liked it! It's a really fluffy consistency, creates a nice lather, and doesn't leave a residue on my skin which is key for an even foundation application. The cleanser doesn't remove make up as well as my night time cleanser, so I only use it in the AM. I love the little exfoliating brush that you can buy separately. Clarisonics ALWAYS irritate my skin and this is much more gentle. If I don't use the brush, the Tatcha Exfoliating Rice Enzyme Powder leaves my skin so soft and helps with "texture." I then put on an oil-free, light moisturizer on  and my most raved about product in my skincare routine – It Cosmetics Bye Bye Under Eye Cream.
For my night time routine, I have a 5-6 step process that I do NOT skip on.
STEP ONE
Cleanse. There are several cleansers we enjoy but our go-to OG is the Tula Purifying Cleanser. It removes make up really well, doesn't strip the "good" oils from your skin, and I've seen a noticeable improved glow in my complexion.
STEP TWO
After I wash my make up off, I put a mask on and I add in this step about twice a week! I love the Tula Exfoliant Mask for when I'm going to get a spray tan or if I'm breaking out. I also love this Gravitymud Firming Treatment.
STEP 3
After I rinse off my mask, I apply any treatments to problem areas or blemishes. Sometimes I use the exfoliant mask as a spot treatment but always use SkinCeuticals Blemish + Aging Defense every night. It's quite pricey but it WORKS. I can put it on a mean pimple and it will be gone when I wake up.
STEP 4
Next step is to apply serums. I use Yeouth Retinol Serum 2.5% with Hyaluronic Acid. Retinol is to credit for diminishing blemishes, fine lines, and pores. It's powerful stuff and retinol is a form of vitamin A that allows your skin to renew and helps enhance collagen production. So overall it has really great benefits. If you've never used a retinol before, you will want to incorporate it in to your skincare slowly. Retinoids break down in sunlight and will not work unless you are using them in your nightly routine.
STEP 5
Last step, I apply Coola Sunless Tan Anti-Aging Serum and Tula Hydrating Day and Night Cream. The serum adds the perfect amount of color to my face without looking orange and the cream is so moisturizing and smells amazing.
STEP 6
I apply the same under eye cream as I use in the AM!
Prep Products For A Perfect Complexion
Now you've got your skincare routine down, prepping your skin before you apply your makeup is essential for a flawless foundation finish. Here are a two ways I like to prep my skin:
1.
If my eyes look tired or puffy, I use the Patchology Gel Eye Patches. I put them on while I drink my tea and catch up with Live With Kelly And Ryan!
2.
Tula has a great Acqua Infusion Oil-Free Gel Cream! I like to use it if I'm just wearing a little concealer and powder, it has a really dewy finish and makes your skin majorly hydrated. It's not in the slightest greasy and acts as light primer for days that I want be more minimalistic with my make up routine. It also reduces the look of redness and irritation
3.
The Hourglass Mineral Veil is some sort of magic. It feels like a velvety goodness and I use it on all of my clients. It's the one product that I absolutely must have when wearing liquid or airbrush foundation. It fills in pores and fine lines so that foundation can just glide on to your skin. It is by far the BEST primer out there.
Xo, Hailey & Kailey
Photography by Musee Studios